Open-air spa・Communal bathroom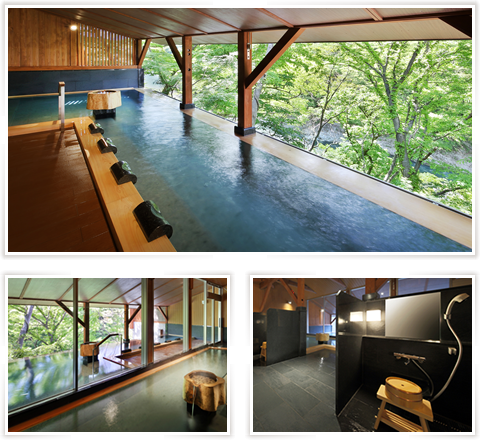 Kinugawa Onsen, peculiar for its soft and smooth water, discovered in 1752, is a historic hot spring in which only Daimyou (vassal lords) and monks attending the temples in Nikko were allowed to soak during the Edo era.
Have a relaxing time in the communal bathroom and the open-air spa (segregated for ladies and gentlemen each), where you can have a grandstand view of nature of Kinugawa's seasonal changes, from strong dark green in spring and summer, to blazing red in autumn, to snow white in winter.
You can cool your heated body in the relaxing room after enjoying the onsen, where Kinugawa's soft and mild spring water can be tasted.
Please check the FAQs to see the precautions for use of onsen (hot spring).
Chartered bath

White-themed space surrounded by sunshine filtering through leaves
Black-themed space making you feel like in the Kinugawa Canyon
Have a wonderful ONSEN bathing experience by chartering our bath for family-use, couple-use, or even single use for your own!!We are happily providing the chartering system for our guests to enjoy the bath for their private use.Our bath is designed to be barrier-free for physically challenged people.You can fully enjoy the Japanese ONSEN bath without worrying about the presence of others.
To book the chartered bath, it is required to pay booking fee and make a reservation for the bath.
Fee for booking the chartered bath

JPY 3,850 for using the chartered bath for 45 minutes(including TAX)

Available bathing time

7:00~10:00, 15:00~22:00 We appreciate your understanding that we cannot meet your requirements in case that your requested time is already booked by somebody else or any other reason occurs.

How to book the chartered bath

For booking the chartered bath, please e-mail us the following information when you book a room. (Japanese or English only)

Room Reservation Number
Check-in Date
Guest Name
Desired time to use the bath during your stay
Desired type of bath you would like to charter
1. White-themed space surrounded by sunshine filtering through leaves
OR
2. Black-themed space making you feel like in the Kinugawa Canyon

E-mail